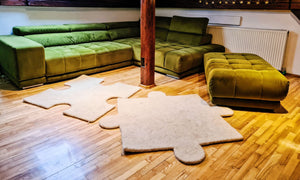 Puzzle rugs
---
What do you think of puzzles? Are you on team Love Them or Hate Them? We have news for you. Either you love them or you don't so much like them; our puzzles are so easy to play with that the chance of not putting them together is zero.
Only we have to warn you; you might miss one. Once you get your first set of two, three, or even four puzzle rugs, the game might start to become addictive, and you might want another one to add to your collection—the missing one.
We are offering a selection of 23 different forms of puzzle rugs for you to choose from.
All are made in standard measurements of 1 x 1 m from side to side, with +20cm for each head of a puzzle.
Allow a +/- 2 cm difference in length as puzzle rugs are a work of hands.
The thickness is about 3cm.
They are made of wool from a local autochthonous breed of sheep called Pramenka, sourced from the area of Croatia famous for its waterfalls, the Plitvice Lakes.
Wool itself is a bit coarse, meaning you wouldn't like to wear it on bare skin, but this attribute is exactly the reason why these rugs are sturdy and soft at the same time, making them perfect for bare feet to walk on.
All orders are made to order, and the waiting time is anything between 5 and 30 days, depending on the number of orders.
All colors are natural off-white. Occasionally we offer other colors, again only natural ones, but Pramenka is skimpy on other shades of brown or grey, so we consider anything other than off-white a rarity.
So if you are in search of something original and made of sustainable material that is eco- and animal-friendly as well as fitting into any modern home with its contemporary and all-time design, then this page is for you.
And now meet our collection!