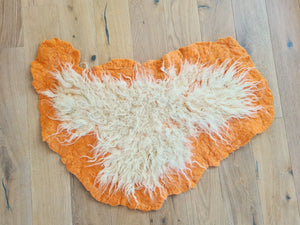 Contemporary sheep rugs
---
Sheep art rugs are a modern, contemporary take on their original and more traditional versions. While traditional sheep rugs are endlessly beautiful and all-time modern, this particular style is a mix of felted art rugs and traditional sheep rugs, offering the best of both.
Sometimes fleeces are taken into so many parts during the shearing process that it is hardly possible to make a good-looking rug out of them, so to not waste perfectly beautiful wool, we get to play with it in another way. Making a felted base is a first step after we decide the shape, but sometimes shape forms in the process if we just let it. After the base is made, which we can even call a playground, toys (locks of sheep's hair) are added. The rest is a result of magic, love, and inspiration.
If eco-friendly and organic living as well as sustainable materials are your life's essentials, then you will be happy to know that wool supports all these healthy living priorities. Besides health, we are focused on design, so you get to enjoy your healthy environment with warm, cozy, and playful modern home additions in the form of playful design. Even more so when you know that all the wool is sourced from the area around the famous Plitvice Lakes in Croatia.