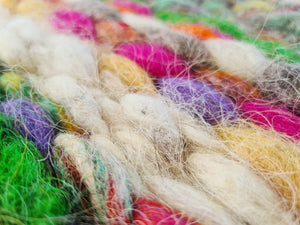 Hand woven rugs
---
Braided wool rugs are a pretty different type of rug we offer. They require skill in braiding. Unlike other types of rugs we offer that are based on felting techniques, partly or fully, this category also uses felting, but in a different way. We do not use felting needles, but we do make cords ourselves by hand and with the help of a carder. Then the cords are washed in warm water to make them more firm while still being soft enough before we finally braid them into a rug.
They are all small-size rugs, as we still haven't mastered making longer cords, but this is another project we are yet to perfect in the future.
So if you are in search of a unique eco- and animal-friendly piece of home decor made of sustainable material and contemporary design, then look no more.