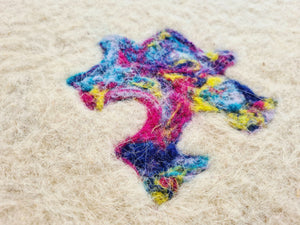 Felted art rugs
---
Art rugs are collections of pieces that are the result of inspiration from dreams and imagination. Each is very different from the other. The process of creating them was not guided by any rules or "must-dos". 
They are generally created on a basic off-white base with hand dyed colorful details and visuals.
Wool is a sustainable material that we have treated solely in an eco- and animal-friendly way through every step of our process.
We take pride in knowing that all our wool is sourced from an indigenous breed of sheep called Pramenka from the area of Croatia famous for its waterfalls, the Plitvice Lakes.